JYJ's Yoochun and Moon Mason transform into 'Uncle and Nephew'
Yazar:
asude
Saat: 22 Temmuz, 2012
JYJ'den Yoochun ve Moon Mason, 'Amca & Yeğen'e dönüştü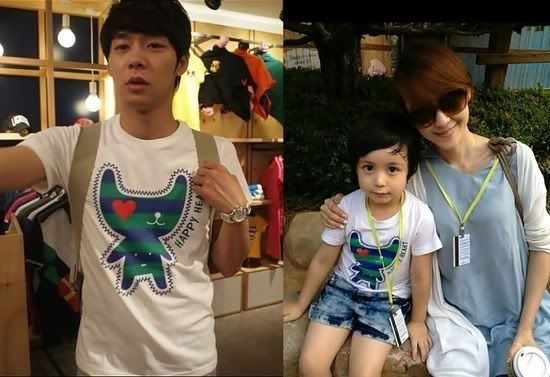 JYJ'den Park Yoochun ve ünlü çocuk yıldız Moon Mason, üzerlerindeki 'Amca & Yeğen' t-shirtleri sebebiyle konu başlığı haline geldi. İkisinin de şık, 'Aile görünümü'nü vurgulayan aynı t-shirtü giydiği fark edildi.
'Rooftop Prince' dramasının çekimlerinde Yoochun, kendisinin de modellik yaptığı giyim markası 'N'in bir t-shirtünü giyerken karşımıza çıktı. Ancak, Moon Mason kendi twitter hesabından yakın zaman önce aynı t-shirtü giyerek çekindiği bir fotoğrafının yayınladı. Çocuk yılız, Jaurim grubunun baş vokali Kim Yoona ile yaptığı Everland eğlence parkı gezisinde bu t-shirtü giymeyi seçmiş.
Üzerlerine tam oturan basit t-shirt, tıpkı Park Yoochun ve Moon Mason gibi, 'aile görünümü' yansıtmak için mükemmel.
haber + foto: Osen via Nate
kaynak: allkpop
çeviri: asude @LunaReds, www.jyjturkey.com